Breast Implants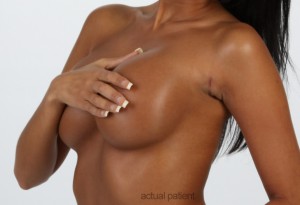 One of the most important decisions you'll make when considering a breast augmentation procedure is the kind of breast implants that will suit both your aesthetic goals and your unique body type. Board-certified plastic surgeon Dr. Daniel C. Mills offers some of the most advanced breast implants available, including both silicone and saline models. Plus, Dr. Mills is now offering the Gummy Bear breast implant, a special type of silicone breast implant that can often provide an even more natural look and feel. At your initial consultation, Dr. Mills will present all of your options to you and answer your questions, and together, you will decide the type and size of implant that can best meet your needs.
Please contact our practice for more information on breast implants here in the Orange County, California area.
Breast Implant Options
Breast implants are designed in a variety of sizes, shapes, and types. They can be round or teardrop-shaped, a variety of sizes, and they can be saline or silicone-based. When you first meet with Dr. Mills for your initial consultation, he will explain all the differences between breast implants and even show you some of the many varieties. He will listen to all of your questions and concerns, and help you choose the specific breast implant model which can meet your ultimate goals. Some of the types of breast implants include:
Gummy Bear (Cohesive Gel) Implants
The Gummy Bear breast implant (medically referred to as the Cohesive Gel implant) contains more cohesive internal silicone, and can therefore retain its shape and provide a more natural look and feel when compared with other breast implants. Dr. Mills' expertise with breast augmentation has allowed him to participate in the U.S. Food and Drug Administration's clinical trials for Gummy Bear breast implants, and the Natrelle® 410 Cohesive Gel Implant is now FDA-approved. At your initial consultation, Dr. Mills can evaluate you to determine if these innovative new breast implants are right for your needs.
Learn more about Gummy Bear breast implants.
Silicone Breast Implants
Approved by the FDA for use in breast augmentation patients age 22 and over, and breast reconstruction patients of any age, silicone breast implants are known to both look and feel like natural breast tissue. Composed of an outer silicone shell encasing a thick silicone gel, silicone breast implants are often less prone to rippling and can be beneficial for women who are very thin and patients who are having breast reconstruction.
Saline Breast Implants
Saline breast implants can be attained by women over the age of 18 and can be very effective at providing beautiful breast augmentation results. Made of a silicone outer shell and filled with a saline (salt-water) solution, saline breast implants have been a mainstay in breast enlargement procedures for decades.
IDEAL IMPLANT® (Structured Saline Implants)
The IDEAL IMPLANT® is an advanced, newly FDA-approved saline implant option available at Dr. Mills' practice. Designed with two separate compartments that both contain one to three "baffle shells," the innovative structure of the IDEAL IMPLANT® helps to restrict the movement of the saline (saltwater) solution within the implant. In turn, this creates an exceptionally natural appearance and feel.
In addition to its close resemblance to natural breasts, the IDEAL IMPLANT® offers the advantage of a low capsular contracture rate as well as a higher immunity to complications like wrinkling, folding, and breakage than the usual saline implant. Furthermore, regular MRI screenings to detect a potential rupture are not necessary, as any leak(s) will cause a clear deflation in volume that will be apparent to the naked eye in the rare case a rupture occurs. This provides patients both confidence and peace of mind knowing that their implants are fully intact.
Choosing the Right Breast Implants
Each type of breast implant has advantages and disadvantages. The best option for you depends on your specific body type and your ultimate breast enhancement goals. Our breast augmentation procedures are custom-tailored to the individual patient and designed to meet your specific needs. Dr. Mills will discuss all aspects of breast implants with you at your initial consultation.
Please contact the Aesthetic Plastic Surgery Institute for more information on breast augmentation with implants.
If you would like more information on breast enhancement, body contouring, facial rejuvenation, and the many other treatments available from Dr. Mills, please visit our main website at www.danmillsmd.com.