Breast Reduction
What Is Breast Reduction?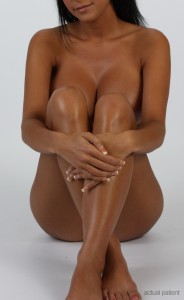 Many people suffer from the discomfort and self-consciousness that can be caused by having breasts that are too large for their body frame. Thankfully, with procedures like breast reduction surgery, Orange County plastic surgeon Daniel C. Mills, MD can remove excess fat and tissue from the breasts and decrease their size, making the breasts more proportionate to your body. With breast reduction, you can achieve a more comfortable breast size and enhance your appearance.
Please contact Dr. Mills to schedule a consultation for breast reduction surgery at our Orange County area practice.
What Are the Benefits of Breast Reduction Surgery?
Patients who have breasts that are too large for their bodies often encounter back, shoulder, and neck pain; excessive drooping or sagging of the breasts; indentations in the skin made by bra-straps; the inability to wear certain types of clothing; and self-consciousness about their appearance. Breast reduction surgery can address these issues and benefit you in a number of ways, including:
Decrease breast size
Alleviate skin irritation under the breasts
Reduce pressure on the shoulder from bra-straps
Help with sleeping and breathing
Relax stretched skin
Reduce pain in the shoulder, back, and neck
Improve posture
Improve proportion and appearance
Our board-certified plastic surgeon in Laguna Beach is highly experienced and skilled with breast reduction procedures and can make the breasts more proportionate to the rest of your body.
If you are considering breast reduction, Dr. Mills will be happy to meet with you for an in-person consultation to answer your questions. At this initial meeting, Dr. Mills will go over all aspects of the procedure with you, address any concerns you may have, and help you gain a better understanding of what you can expect. Together, you and Dr. Mills can decide if breast reduction surgery is the best option for your needs.
How Is the Breast Reduction Procedure Performed?
Your breast reduction surgery can be performed at Oceanview Ambulatory Surgery Center, a Medicare-certified facility. The procedure begins with an incision made around the areola (the dark-pigmented area surrounding the nipple) and down to the crease of the breast. Dr. Mills will remove extra fat, tissue, and skin, and reposition the nipples and areolas. The incisions are then closed. In some cases, liposuction may be necessary to reduce excess fat in the armpit areas.
The entire procedure can be performed under general anesthesia as an outpatient. Depending on the extent of surgery necessary, breast reduction typically takes about two to four hours to complete.
What Does the Breast Reduction Recovery Process Involve?
After breast reduction surgery, you will be fitted with a surgical bra or elastic bandage around the breasts to facilitate healing. Some patients may require drainage tubes to remove excess fluids during the recovery process. Stitches will usually be removed after about one week.
Although some degree of scarring is inevitable, Dr. Mills will make every effort to make residual scarring as light as possible and easily hidden under clothing. There will be some swelling, bruising, and discomfort after breast reduction surgery; however, these side effects can be managed with medication and should fade as the breasts heal. Most daily activities can typically be resumed after about two weeks. Dr. Mills will advise you to avoid strenuous activity and heavy lifting for several weeks. He will also meet with you in follow-up appointments after surgery to make sure the healing process is going smoothly.
How Much Does Breast Reduction Surgery Cost?
The total price of breast reduction surgery is dependent on a number of factors, including the complexity of the operation, the techniques utilized, the operating facility fee, and the surgeon's fee. The American Society of Plastic Surgeons estimates the average cost of breast reduction surgery to be $5,631; however, this estimate is typically representative of the surgeon's fee alone, without the consideration of associated expenses. It's important to note that some medical insurance policies offer at least partial coverage for breast reduction when the procedure is deemed a medical necessity; your insurance agent can provide you with information as to whether coverage is available. Once your customized treatment plan is developed, a member of our team will go over the total cost estimate of your breast reduction surgery and talk with you about the many payment options available. We also work with reputable healthcare financing companies that offer qualified applicants a range of convenient payment plans to help bring treatment into their budget.
How Noticeable Are the Breast Reduction Scars?
Scarring from breast reduction surgery will depend on the techniques utilized during the procedure and the extent of treatment necessary to fulfill your goals. It is inevitable that there will be some residual scarring after breast reduction surgery; however, Dr. Mills is extensively experienced with this procedure and will make every effort to minimize the appearance of scars. Signs of scarring should fade somewhat over time, and there are advanced post-operative treatments that can lessen their appearance.
Will I Need a Breast Lift with My Reduction?
Breast reduction itself can provide a "lifting" effect for many patients. In many cases, Dr. Mills needs to remove excess skin to reduce the size of the breasts. He will then reshape/reposition the breasts and nipples for the best results. This can ultimately result in a more youthful and firm appearance to the breasts, essentially producing similar results to a breast lift.  
Breast reduction is a commonly performed procedure and can bring you greater comfort and more self-confidence with your appearance. Please contact our practice for more information on breast reduction.
If you would like to learn more about breast enhancement, body contouring, facial rejuvenation, and other treatments available from Dr. Mills, please visit our main website at www.danmillsmd.com.