What Is a Mommy Makeover?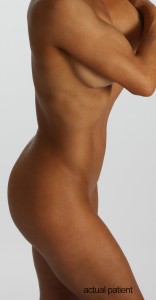 Here at the practice of Dr. Daniel C. Mills, our board-certified plastic surgeon offers a procedure called the Mommy Makeover, which is designed to incorporate one or more cosmetic enhancement treatments that address a number of aesthetic issues. Having a child can be one of the greatest gifts in life; however, pregnancy and child-rearing can take a toll on your appearance that may be difficult for you to reverse on your own. It's very common for new mothers to experience stubborn excess fat in a variety of body areas that doesn't respond to diet and exercise. It's also common for the breasts to be affected by excess skin and/or lost volume, and the stomach area to exhibit extra skin and fat that is very difficult to get rid of. A Mommy Makeover can restore your body to its pre-pregnancy figure and enhance your self-esteem. After all, motherhood involves a lot of sacrifices, but the way you look does not have to be one of them!
If you would like to meet with Dr. Mills to discuss your specific concerns, please contact our practice to schedule your Mommy Makeover consultation.
What Are the Potential Benefits of a Mommy Makeover?
A Mommy Makeover can rejuvenate a range of body areas and restore your appearance after pregnancy and child-rearing. Some of the benefits of a Mommy Makeover include:
Reduction of excess skin and fat in the breasts that may be causing an appearance of sagginess
Enhancement of breast fullness and shape after volume loss
Elimination of excess fat in a number of areas that have proven resistant to diet and exercise
Tightening of the abdominal muscles and reduction of extra skin in the midsection
Rejuvenation of facial features and skin affected by wrinkles and fine lines 
During your initial consultation with Dr. Mills, he will go over the many treatment options that can be included in a Mommy Makeover, and come up with an overall plan for your procedure. You can discuss your goals with him and decide on how you would like your Mommy Makeover procedure performed – either in one combination of procedures, or a number of procedures staged at different times. Dr. Mills will answer all of your questions and help you decide which treatment options are best for your needs.
How Should I Prepare for a Mommy Makeover?
In order to be considered eligible for a Mommy Makeover and increase chances of a safe and speedy recovery, you may be advised to make certain lifestyle changes prior to treatment. For instance, you should be in reasonably good overall health and maintain a stable weight. Additionally, if you smoke or regularly take anti-inflammatory drugs, you may be urged to stop doing so before surgery to avoid potential complications with the healing process and increased surgical risks.
Finally, keep in mind that depending on which treatments are included in your Mommy Makeover, you may need to undergo at least a few weeks of healing. As such, we recommend you set aside time to recover in peace and reserve a comfortable space in your home for this healing period. If you have small children, it may be wise to arrange a babysitter beforehand. We also encourage you to fill any prescriptions for post-operative medications prior to your treatment.
What Are the Mommy Makeover Treatment Options?


Before
After*
Visit our Gallery
The idea of a Mommy Makeover is to address a number of aesthetic issues you may be having at one time, or as part of a comprehensive treatment plan spaced out over a number of appointments. Some of the options that are beneficial for new mothers include:
Breast Lift
Sagginess and excess skin in the breasts are some of the most common effects of pregnancy, and can become even more noticeable after breastfeeding. Breast lift, or mastopexy surgery, is a procedure designed to eliminate excess skin and lift the breasts to a higher position. This effective treatment can give your breasts a firmer, "perky" appearance.
Breast Lift with Implants
For women who have lost breast volume after pregnancy, in addition to experiencing sag or droop in the breasts, a breast lift with implants can provide beautiful results. This procedure is designed to tighten the breast skin and add volume and fullness to the breasts with breast implants. A breast lift with implants can allow Dr. Mills to give you a more youthful and sensual breast contour.
Learn More About Breast Lift with Implants
Breast Augmentation
Breast augmentation can be of great benefit to women who would like to increase the size of their breasts and enhance their bustline. Dr. Mills offers an array of implant sizes, shapes, and types, including the innovative Gummy Bear breast implants.
Learn More About Breast Augmentation
Liposuction
One of the most popular surgical aesthetic enhancement procedures, liposuction can eliminate pockets of stubborn excess fat virtually anywhere on the body. After pregnancy, you may notice areas retaining fat that are extremely difficult to get rid of through diet and exercise alone. Liposuction targets these areas and removes the extra fat for a more contoured appearance.
CoolSculpting®
For patients who may not need a full liposuction procedure, CoolSculpting® offers a non-surgical alternative that can reduce excess fat in isolated areas of the body. This advanced treatment involves no needles or anesthesia. CoolSculpting® utilizes an innovative cooling technique to target excess fat cells without harming surrounding tissues. The body can then gradually filter out the excess fat through natural metabolic processes. This state-of-the-art treatment can be used in a number of body areas.
Learn more about CoolSculpting®
Tummy Tuck
Tummy tuck (abdominoplasty) surgery addresses the area most affected by pregnancy: the abdomen. During pregnancy, the abdominal muscles are stretched and pulled apart, and it can be difficult to get rid of the excess skin that appears in the midsection. A tummy tuck pulls the abdominal muscles taut, eliminates extra skin, and tightens the remainder for a flatter, more fit-looking stomach.
Cosmetic Injectable Facial Rejuvenation
After pregnancy and during child-rearing, areas of your face may take on a tired or aged appearance, making you look older than you really are. A number of cosmetic injectable facial rejuvenation treatments, such as BOTOX® Cosmetic or dermal fillers like JUVÉDERM®, can reduce the appearance of fine lines, wrinkles, and crow's feet for a more refreshed and youthful appearance.
Learn More About Dermal Fillers
How Long Does a Mommy Makeover Take?
The precise length of a Mommy Makeover can vary considerably. This is because the procedure is tailored to meet the patient's individual needs and may include a combination of shorter and more lengthy treatments. It is also important to consider that many procedures incorporated into the Mommy Makeover, namely cosmetic surgeries, may require a significant recovery period.
When you meet with Dr. Mills for your initial consultation, feel free to discuss the length of your care. He will consider this factor along with the rest of your concerns and goals to help you create a personalized treatment plan.
How Long is the Mommy Makeover Recovery Period?
Recovery from Mommy Makeover procedures will depend on the type of procedures you have and how many are performed. With more invasive procedures like tummy tuck surgery or breast lift, you can expect at least several weeks of recovery time. If you opt for only one or two Mommy Makeover procedures, or non-invasive treatments like cosmetic injectable facial rejuvenation, you may experience a shorter recovery period.
What Does a Mommy Makeover Cost?
Mommy Makeover treatment plans are completely customized based on the needs and goals of each patient; therefore, the total cost of a Mommy Makeover can be very different from one individual to another. Once you and Dr. Mills have determined the options that will be part of your Mommy Makeover and a treatment plan is developed during the initial consultation, a member of our team will produce an estimate of the price that includes all expenses associated with the procedure. Cost factors include the type and number of treatments that compose the Mommy Makeover, surgical facility and anesthesia fees, the surgeon's fee, and other components. We will go over the cost estimate with you and discuss the many payment methods accepted at our practice. We can also answer your questions about plastic surgery financing options such as PatientFi™, CareCredit®, and others that offer qualified applicants a range of payment plans that can make the cost of treatment more convenient and affordable.
Choosing a Mommy Makeover Surgeon
A Mommy Makeover typically involves several different types of surgical treatments. This requires the plastic surgeon who will perform the procedure to be exceptionally well-trained and experienced in a variety of treatments, particularly those being selected for inclusion in the Mommy Makeover.
As you go about the process of choosing your Mommy Makeover surgeon, there are some criteria to look for that can help you find the doctor who may be right for your needs:
Determine whether the prospective surgeon is certified by the American Board of Plastic Surgery. ABPS certification requires an extensive examination process, proven skills and experience, and a commitment to strict and high standards of care. 
Read the surgeon's biography to familiarize yourself with his/her credentials and background.
Find information about the specific treatments the surgeon offers to determine whether they are skilled with the particular procedures that may be included in a Mommy Makeover.
Read patient reviews and request to see before-and-after photos to get an idea of the results others have experienced in the surgeon's care.  
Meet with the surgeon for a consultation to determine how confident and comfortable you feel upon talking with them. This is also a great opportunity to ask questions and evaluate your rapport. Is the surgeon attentive and communicative? Does the surgeon answer your questions in detail and tell you about all aspects of the procedure, including risks and benefits, as well as what you can expect during the recovery process? You should never feel rushed or pressured, and you should have confidence that the surgeon is knowledgeable and forthright about the overall treatment experience. 
Dr. Daniel C. Mills is a board-certified plastic surgeon who is skilled in a comprehensive array of treatments that are often part of a Mommy Makeover. If you have questions about Dr. Mills' background and experience with these procedures, please don't hesitate to contact us at any time.
A Mommy Makeover can do wonders for enhancing your appearance after pregnancy, restoring your body and helping you feel better about the way you look. Please contact our practice for more information on Mommy Makeover procedures. To learn more about body contouring, facial rejuvenation, and the many other treatments available from Dr. Mills, please visit our main website at www.danmillsmd.com.
*Individual Results May Vary